This site is reader supported. If you click on our links, we may receive a commission at no cost to you. [Disclosure]
Starting an eCommerce business from home is more accessible than in recent years.
Thanks to systems like Shopify and WooCommerce, It's now simpler than ever to start an online business without much programming experience or a large budget.
Ecommerce is expanding like never before due to the availability of dropshipping providers with low pricing.
When used in a lucrative market, eCommerce is one of the few methods for earning money online that can be relied upon to be both long-lasting and sustainable.
In actuality, regular folks who have no formal business training, advanced degrees, or sizable bank accounts are generating millions selling everyday products.
I recommend reading this entire post from start to finish if you're thinking about opening your own online store.
Choosing a Lucrative Niche
You can have the greatest, most fascinating online store ever and fail if you don't select a lucrative niche. Niche selection is so crucial that it may practically determine your success or failure.
A solid niche should have the following characteristics:
medium to a large audience
little to moderate competition
customers who are excited about the niche
items that are priced high enough to make money
You need to ensure that there are sufficient consumers interested in the niche to sustain a large number of sales, but you don't want the niche to be so saturated that making a profit is impossible.
You want a market where the purchasers are passionate about the product or have a genuine need for it.
It will be hard to make a lot of money selling regular products unless you have a unique selling point, like a much lower price or something else that adds value.
You want to sell things that customers will want to buy again and again.
Make sure your products can be sold for a high enough price to earn a healthy profit without pricing you out of the market.
Selling items for under $1 won't likely bring in much money since it will take too long to build up a big enough market. On the other hand, items priced at $10 or more would definitely be enough to make launching a store worthwhile.
There are people who have made a lot of money with very cheap products, but it takes a lot more volume than a beginner could likely handle.
Start your niche research by making a list of your own hobbies, interests, and areas of knowledge. The more you know about a certain subject, the easier it will be to find products that people want to buy and the best ways to market to your target customer.
Once you've compiled a list with at least 10 to 20 ideas, you can start doing serious research on them.
You should research each prospective niche to see how many people would be interested in it, how many items are available that you might offer, and what kind of profit margin is feasible.
There are many ways to do this, but checking Amazon is one of the most common. Begin by looking for individual goods in a certain niche that you might be interested in purchasing.
For instance, if you want to investigate the market for automobile accessories, look up dash cams and phone holders to see which products are most popular. This will give you an indication of how well each product sells in general.
Finding a few items that are at least selling well enough to rank in the top 10,000 in their primary category, or perhaps in the top 1,000, would be ideal.
Now, you should know that high demand in the main category doesn't always mean a lot of sales. There will be fewer sales in some categories than in others, of course. However, this will offer you a general idea of the niche's market potential.
Discovering Your Interests
Choosing a successful niche is not sufficient. Your business is likely to rapidly become a chore if you select a niche for which you lack excitement or that you genuinely dislike.
In fact, leaving a job you despise is a common cause for many people starting a business. The last thing you want is to find yourself back where you started, dissatisfied, and desiring something else.
So, when looking for suitable niches, try to locate something that you're interested in or passionate about.
Even if you are interested in very unusual topics, you may expect to find a considerable number of others who share those same interests.
The Key To Success
Once you've identified a niche that you feel has a high potential for both profitability and enthusiasm, strive to narrow it down even further to produce the narrowest niche imaginable.
Let's take an example where you've decided to focus on the kitchen and home market. This may include items like furniture, cleaning supplies, storage solutions, and bedding.
However, it would be quite challenging to compete given that there are large numbers of well-known businesses that focus on this niche.
You would need to source thousands of goods and ensure that the pricing is always current to run an all-inclusive store in such a vast niche.
It would be an enormous amount of work for a single individual, let alone a small team.
As an alternative, it's preferable to zero down on a specific topic. It can be the subject matter that interests you the most or the one that you think would be the most lucrative.

But it's crucial to narrow your focus as far as you can without making it impossible to attract customers or locate suppliers.
For instance, you may focus more specifically on vacuums and floor care rather than "home and kitchen".
This may still be too wide, so you may narrow it down to steam cleaners, steam mops, and accessories.
You can even go a step further and limit your specialty to steam mops and their accessories.
Keep getting more specific until you can't find enough products to sell or enough interest in the niche. You might be shocked to see how far you can go in a variety of niches.
For instance, justmugs.com is an authority on mugs. Since starting their company in 1994, they have sold "everyday mugs," exquisite porcelain, and bone china, and then diversified into server ware.
Where to Find Products?
You may obtain goods for your online business using one of three methods:
1. You can purchase from a manufacturer or a wholesaler.
2. You can work with a dropshipper.
3. You can make the items yourself.
Each approach has its own advantages and disadvantages, and no one method is perfect for every store. Let's discuss these aspects so you can choose the best approach to source goods for your business.
Wholesale Purchasing
For the majority of retailers, both online and offline, purchasing items in bulk directly from the manufacturer or through a wholesaler who serves as a middleman is the most typical form of product sourcing.
Since dropshippers are typically middlemen who must mark up wholesale pricing to earn a profit, buying wholesale will often result in lower rates than from a dropshipper.
This is arguably the most significant advantage of this type of source.
Additionally, you'll have greater control because you'll know you're sending the appropriate goods to the consumer and can decide how they will be packaged and delivered. As a result, there are fewer returns.
You will, however, require warehouse space to stock the items, an inventory management system, and time to package and transport all of the products to your customers.
Furthermore, most people cannot afford the large monetary investment required to purchase merchandise upfront. This is one of the primary reasons why many online stores begin with dropshipping.
Dropshipping
If you are unfamiliar with dropshipping, it is a method of selling products online that involves taking orders on your website, receiving payment from customers, and then placing an order for the goods on the dropshipper's website.
The dropshipper sends the merchandise straight to the customer, and you retain the difference as your profit.
Let's consider that you are asking $20 for a dog collar and the dropshipper charges $10. Your consumer pays you $20 plus the cost of delivery.
After that, you spend $10 to purchase the item from the dropshipper and retain $10 in profit.
You can also use plugins for WooCommerce and Shopify, two of the most popular eCommerce platforms, to automate the ordering process.
The biggest advantage of this strategy is that you don't have to pay for items upfront, so you could start your business for free, minus the expense of a domain name, and hosting, for your website.
Furthermore, you do not need warehouse space to keep the product, nor do you need to bother with packing and shipping.
The downside is that you lose a lot of control, which occasionally can be problematic. For example, you won't be able to verify that your buyer receives the proper goods, nor will you be able to manage the shipment time.
Making Your Own Products
Making your own items is the last method of product sourcing. If you enjoy making jewelry or painting, for example, you can make all of your own products.
You may also build a product prototype and look for companies to create it for you. This can be excessively pricey for many, but it's an excellent way to create a one-of-a-kind product.
There are several advantages to doing so, such as having a product that no one else has, which can enhance sales. However, there are some disadvantages.
Making your own items, for example, might be rather costly. Even if you make them by hand, you will need to buy supplies. If you hire a company to manufacture the products, you will incur significant upfront costs.
If you're able to do so, manufacturing and selling your own exclusive merchandise is always preferable. However, starting with dropshipping or wholesale is a good method to establish your brand and prepare for the eventual transition to manufacturing your own goods.
Promoting Your Store
Now that you've chosen a product and determined where to buy it, It's now time to get out there and start spreading the word.
Unless you're really lucky, people won't just suddenly find your business and start purchasing from you.
Regardless of whether you run an online or offline business, you need a strategy to drive consumers to your offer.
Let's discuss some powerful promotion strategies you may implement right away.
Maintain A USP
A USP, also known as a unique selling proposition, is crucial for your store.
This distinguishes your business from all, or at least the majority, of your competitors and encourages customers to use you rather than your rivals.
If you sell something that is very unique, that in itself is your USP.
However, if you're offering a product that is being sold by a lot of other businesses, you need something to make you stand out.
Here are some recommendations:
Specialize
Earlier, we stressed the value of narrowing your focus as much as you can in a certain industry since it can help you stand out from the crowd. It's an excellent differentiator.
Free delivery
Depending on your business margins, this may or may not be viable, or you may have to provide free shipping only with purchases above a specific amount, but this is a terrific way to entice customers to shop from you rather than your competitors.
Include bonuses
People enjoy receiving freebies. Even modest bonuses may be a terrific way to increase client loyalty, encourage return business, and draw new customers to your business.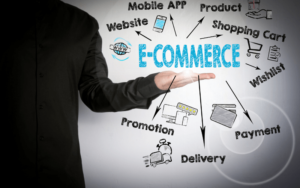 Offer bundles
Using bundles to differentiate oneself from the competition is a terrific idea.
Imagine that you run a store where model boat construction kits are sold.
An entry-level model construction kit could include everything a new hobbyist might want, such as a basic paint set, brushes, craft knives, etc.
You may then promote this particular kit to get them inside your shop, where they are likely to make more purchases.
Modify your business model
Many business owners switch from the typical shopping cart model to the bundle or subscription approach. Before you spend too much time and money on making changes, be sure that it is appropriate for your market.
Don't come up with a USP simply to have one. Make sure it fits your market and significantly improves the experience for your customers.
Social Media
You undoubtedly already know how important social media can be for marketing. However, you may not know which sites are the most effective or how to use each site to generate the most highly qualified visitors.
Let's look at some popular networks and how to leverage them to boost traffic and revenue.
Facebook
Facebook is one of the best-known social media networks in the world. Facebook has exceeded 2 billion monthly active users, according to DataReportal. They also have one of the most diversified audiences, having a higher proportion of mature users as well as younger ones.
There are three main methods of marketing on Facebook:
Facebook pages
Facebook ads
Facebook groups
Setting up a Facebook page for your business is a great idea to start growing your brand's presence online, but aside from utilizing it for paid promotion, I wouldn't put too much emphasis on the page itself.
This is due to a change in how postings on sites appear in people's newsfeeds, resulting in considerably fewer views.
Instead, concentrate your efforts on creating a Facebook group. Group posts are seen far more frequently than page posts, and they also elicit far more interaction.
You could organize member-only competitions, giveaways, and other activities within your group. This will encourage more individuals to join and participate in your group.
Due to the requirements of Facebook ads, you still need a page for marketing purposes. You may also continue to contribute to the page on a regular basis.
However, you should put more work into growing your group in order to benefit from the free traffic they can offer.
Since the group feature on Facebook can be so effective when used properly, it is perhaps the finest social media network overall for marketers.
Furthermore, they have the most diversified audience in terms of gender balance, as well as spanning the majority of age groups and other demographics.
Instagram
Instagram's user base is typically under the age of 35, although they also have a large number of users in other age groups. This is another diverse platform, however, they tend to lean towards a mostly younger demographic.
Since Instagram has been working on its model to make it far more productive for marketers without offending its core user base, it has recently gained a reputation as another worthy platform for marketing.
Since it is extremely visual in nature, content like photographs and videos are easily shared with your target audience, and you can even show them how to use the product.
One of Instagram's best features is that users are 58 times more likely to share a post than Facebook users and 120 times more likely than Twitter users.
Instagram has also launched a paid advertising system, which has received a lot of favorable reviews. It's amazing for increasing brand exposure and engagement, but it's not as successful for direct selling because the platform doesn't allow clickable links.
Pinterest
Most people don't think of Pinterest as a social media platform. It does have a social component since you post material that is viewed and shared by others, and you may like and comment on it.
But compared to other networks, it isn't as strong in the social arena. But since it functions very much like social networks, we'll add it here.
Pinterest is largely regarded as one of the most effective platforms for generating not just traffic but also revenue. Analytical results show that Pinterest is far more efficient than other networks for promoting products.
Pinterest includes a paid advertising system as well, and many marketers have found it to be quite effective for driving sales. With precise targeting, you can find exactly the customers you're searching for and market to them directly.
Other Social Network Sites
Based on your market and how you use them, there are alternative networks that might or might not work for you. For instance, Twitter is useful for some but not for others. Snapchat might not work as effectively for some markets as it would for younger, more tech-savvy ones.
LinkedIn advertising, for example, is said to be highly effective, but it only works for a B2B (business to business) audience, or when you're selling anything associated with job hunting or education.
It's a good idea to have a presence on many networks, but don't spend too much time on them unless you truly feel they have market potential.
Summary
If you've ever dreamed of starting your own online store but were afraid you didn't have what it takes, now is the time to take the plunge.
Starting out is much simpler than you probably imagined. There is a lot of potential in this business, and the growth rate is steadily increasing over time.
In this article, we've talked about how to choose a niche market, how to source products, and how to market your store.
Despite the fact that we've covered a lot of ground, there's still a lot of material that we can't possibly cover in such a short post.
If you want more detailed information on how to set up and run your eCommerce business from home, I highly recommend Salehoo Educate.
You'll learn how to build, launch & grow your online store the right way using Shopify, Amazon, eBay, and much more.